Download Product Catalogue
We bring forth optimum quality
Sprinkler Clamp
in a broad assortment of assortment different sizes. Our skilled engineers make use of mild steel electro galvanized in fabricating Sprinkler Clamp. The Sprinkler Clamp is ideal for use in sprinkler systems and fire extinguishing systems for free hanging of horizontal pipe lines. Known for its quality and durability, our Sprinkler Clamp guarantees high permissible load. Further, mounting of Sprinkler Clamp is possible without any additional tooling.
Complince
Federal Specification As-A-1192 (Type 1)
MSS-SP58 (Type 1)
MSS – SP69
WW-H-171E (Type 1)
EG-ASTMB 633 SC3, BS 1706 FE / ZN 12
Selection / Ordering
Hot dip Galvanised finish (Suffix "HDG")
EPDM Lined (Suffix "R").
Epoxy powder coated finish (suffix "P")
Stainless Steel Construction (Suffix "SS")
Note :
Due to policy of continual improvement, the specifications are subject to change without prior notice.
Download Product Catalogue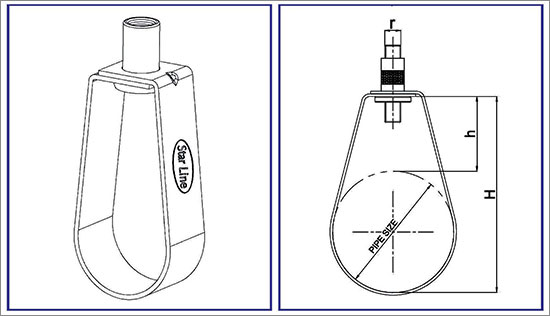 Selection Table (Table No. B-07-01)
| | | | | | | |
| --- | --- | --- | --- | --- | --- | --- |
| Model No. | Pipe Size (inches) | Theraded Connection (r) mm | Strip Size (mm) | Height (mm) (H) | Height Adjustment (h) mm | Safe Working Load (kgs) |
| SSC028 | ¾" | 10 | 1.5x20 | 61 | 28 | 150 |
| SSC035 | 1" | 10 | 1.5x21 | 68 | 35 | 150 |
| SSC040 | 1 ¼" | 10 | 1.5x22 | 75 | 42 | 150 |
| SSC048 | 1 ½" | 10 | 1.5x23 | 81 | 48 | 150 |
| SSC060 | 2" | 10 | 1.5x24 | 100 | 60 | 150 |
| SSC075 | 2 ½" | 10 | 2x32 | 120 | 73 | 225 |
| SSC090 | 3" | 10 | 2x33 | 135 | 89 | 225 |
| SSC100 | 3 ½" | 10 | 2x34 | 150 | 105 | 225 |
| SSC115 | 4" | 10 | 2.5x32 | 165 | 115 | 225 |
| SSC140 | 5" | 12 | 2.5x40 | 195 | 140 | 300 |
| SSC168 | 6" | 12 | 3x40 | 230 | 168 | 300 |
| SSC200 | 8" | 12 | 3x50 | 290 | 219 | 450 |
| SSC250 | 10" | 12 | 3x50 | 315 | 273 | 500 |
Graph